CPD Live will be coming to a screen near you over two days, 11-12 October 2023, ten sessions to give you the latest in industry news, regulations, product updates and specification information you need.
Each session is expertly created and is worth 1 formal CPD point, giving you the chance to earn 10 points across a range of competency units. Better yet, CPD Live is fully digital and completely free, meaning you can join from your home or office and top up your learning on us! Hosted on the CPD Live platform, you will be able to attend sessions and manage your certificates all in one convenient place.
Across two action-packed days, CPD Live will present 10 sessions produced in collaboration with brands who hold expertise in areas including product certification, sustainability, regulatory compliance, and more. Pick the topics that appeal to you or hang around to catch them all. Each session is run as an interactive presentation, giving you the chance to interact with presenters and panelists and get answers to all your burning questions.
Interested? Simply browse our scheduled sessions below and register your attendance for the presentations that interest you.
Discover the 2023 October CPD Live topics:
Deemed to Satisfy Compliant Level Entry Thresholds
Wednesday 11th October 09:10am – 10:00am
As with all aspects of the construction sector, the specification of level entry thresholds in Australia involves compliance with the National Construction Code (NCC). As is also standard, compliance of these products can involve either Performance Solutions (which vary according to the specific job) or the more prescriptive and standardised Deemed-to-Satisfy (DTS) solutions.
In the case of level entry thresholds, amongst specifiers, the DTS option is broadly acknowledged as the way to go. For these products, taking the Performance Solution is viewed as not just unnecessary but too expensive.
That said, the pathway to DTS compliance is not as clear as it could be. This CPD Live Session is intended to address that lack of clarity. Beginning by outlining the relevant regulations, their purpose, and their origins, our speakers will go on to outline the clearest and simplest pathway to not just DTS compliance but best practice.
Towards Net Zero- Blinds, Best Practice Sustainability & Beyond
Wednesday 11th October 10:30am – 11:30am
Though sometimes overlooked on these terms, window coverings are an important consideration for specifiers motivated by sustainability. With their capacity to control not just light and glare but also heat, the best blind and curtain fabrics have a key role to play in improving thermal efficiency.

Incorporated thoughtfully, into projects of all types, high quality shading systems help reduce the need for artificial cooling. In this way, they improve operational performance and reduce carbon footprints.

Importantly, the best blinds are also produced with embodied carbon in mind. Aware of their product stewardship responsibilities, their manufacturers endeavour to minimise the emissions associated with production processes, transportation, and so forth. And they aim to limit the damage caused by their by-products.

In this session, we highlight the types of products that meet these standards and are therefore genuinely sustainable. Our speakers outline how to identify them and how to best incorporate them in your work.
By the end of this session, you should be able to:
Define the term 'Sustainable Architecture' and explain how it relates to blinds and curtains.
Identify the types of environmental damage that window covering products, which are not produced with this concept in mind, can cause.
Identify the best environmental certifications and explain why they can be considered accurate.
Outline the ways for specifiers to select genuinely sustainable window covering products.
Electric Fires as a Simpler, Greener Alternative
Wednesday 11th October 12:00pm – 1:00pm
There is something special about fireplaces. Traditional and reliable, they have a timeless capacity to create a feeling of cosiness. Beyond that, as research has shown, simply being in the presence of an open fire – contemplating its flames and accompanying sounds – can even lower your blood pressure.
That said, fireplaces are not without their negatives. While the traditional variety of wood burning stove can be messy and higher maintenance, more modern options like gas have their own pros and cons. Although they look great and are highly efficient, there is a need for gas lines, flueing, and so on which isn't always practical.
In this context, the latest generation of electric fires represent a simpler, greener alternative. Available in a range of types, including 2D and 3D systems and even heat-free models, there is something suitable for most applications.
In this session, we explain why this is the case. Outlining the various options available, their installation requirements and more, we explain how to ensure you find the right electric fire for your next project.
Wall & Ceiling Specification to NCC 2022 – Pathways to Compliance & Performance
Wednesday 11th October 13:30pm – 14:30pm
For Australian architects and specifiers, the task of navigating a way through the National Construction Code (NCC) can sometimes be difficult.
Take walling systems as an example. As per the NCC, the regulations vary depending on the type of system involved – whether it's a steel framed wall system, a timber framed wall system, a concrete / masonry wall system, an external wall system, or indeed a ceiling system.
Then, consideration must be given to Structural requirements (NCC Section B) Fire performance walls (NCC Section C), Water/mould resistance & acoustic performance (NCC Section F), thermal performance walls (NCC Section J), Impact Resistance, and more.
Then again, you need to decide whether you meet regulations via. Deemed to Satisfy (DTS) or Performance solutions. Which all adds up to a lot of complexity and the possibility of error (and non-compliance). This session is intended to help remove some of that complexity and highlight practical pathways to compliance and performance when specifying walling systems.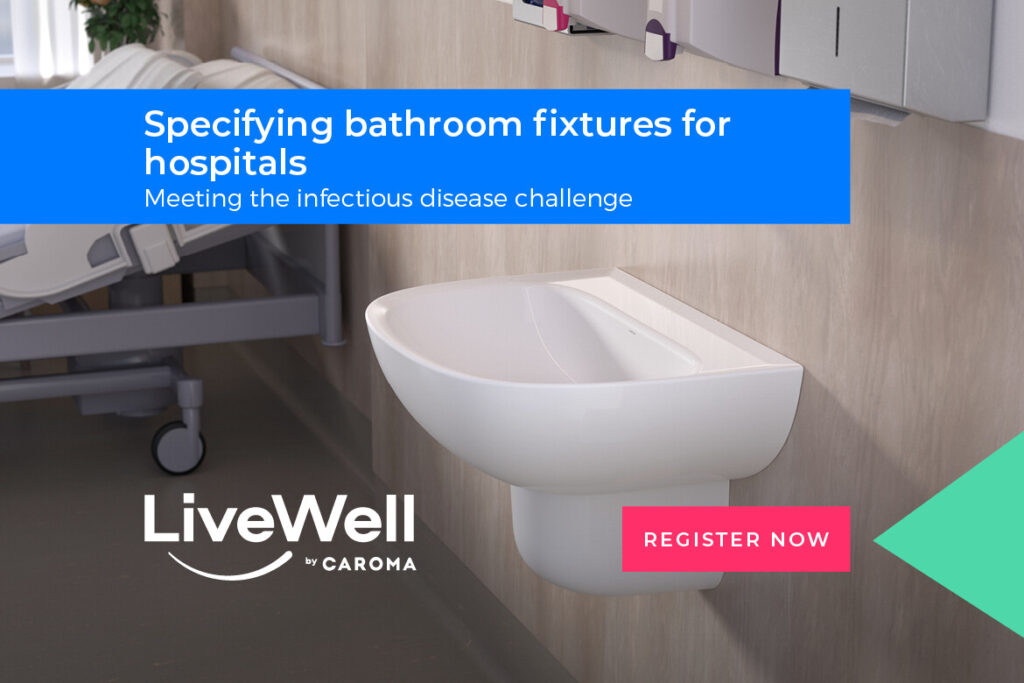 Specifying bathroom fixtures for hospitals​
– Meeting the infectious disease challenge
Wednesday 11th October 15:00pm – 16:00pm
Despite the best efforts of our healthcare professionals, Australian hospitals are not always the best places for sick people to be. As the NSW Government's Clinical Excellence Commission notes, each year around 165,000 patients contract infectious diseases while receiving hospital treatment (for unrelated medical issues).​
Known as healthcare associated infections (HAIs), these include viruses (such as COVID-19 and Influenza), waterborne infections (like Legionella bacteria), and bacterial infections (like E coli and Golden Staph). Thankfully, there are ways to minimise all these infections. Beyond cleaning regimes, good personal hygiene, and so forth, those who design our hospitals also have a role to play. ​
In this context, this session focusses on the specification of bathroom fixtures in hospitals. Beginning by identifying the infections involved, our speakers go on to outline the products and design approaches that architects can use to minimize their spread.
At the end of this presentation, you should be able to:
Outline the prevalence of infectious diseases in hospitals and other healthcare environments, as well as their causes
Identify design practices and sanitaryware products that can help minimise the spread of these diseases and therefore improve patient care
Outline the regulatory requirements associated with healthcare environments and identify sanitaryware products that help meet these requirements
Explore options for Furniture, Fixtures & Equipment product specification within hospitals and healthcare environments
A Guide to Vertical Cable Safety Barriers- Principles For Good Design
Thursday 12th October 09:00am – 10:00am
Efficient and stylish, floor to ceiling vertical cable barriers have become a popular means of ensuring fall safety on balconies, atria and so forth. While the effectiveness of such systems is clear, and their emerging popularity is welcome, specifiers should follow some basic rules to ensure the performance of the solution.
Barriers that are designed and installed without full consideration of factors like cable behaviour, the importance of connections, and so on can be problematic. And, depending on application, the consequences can render a barrier non-compliant.
Titled, 'A Guide To Vertical Cable Barriers', this presentation is intended to help ensure you arrive at an appropriate design. Noting the limitations in the way the NCC and other regulations deal with such systems, our speakers outline how to meet best practice when it comes to the specification of Vertical Cable Barriers.
At the end of this presentation, you should be able to:
Outline the attractions of Vertical Cable Safety Barriers and the types of applications they suit
Explain how the National Construction Code regulates the installation of Vertical Cable Safety Barriers
Outline limitations in the way Vertical Cable Safety Barriers are regulated in Australia
Identify the types of products that are most suitable for use as Vertical Cable Safety Barriers
Understanding Qualicoat: The International Quality Certification for Architectural Powder Coating
Thursday 12th October 10:30am – 11:30am
A versatile and durable finish that is electrostatically applied, powder coating is a commonly used option for a broad range of metal components, from car wheels to building products, and more. Because of its method of application, if applied correctly, powder coating offers superior protection to typical painted-on coatings.

Within the construction sector, however, care should be taken when specifying products featuring powder coating. Considering the potentially drastic consequences associated with their failure, it is essential to ensure the quality of all coatings before specification.

The best way to do this is by seeking out coatings that meet the requirements of Qualicoat, the world's only independent process control specification for quality architectural powder coating. This session is intended to shine a light on Qualicoat. Our speakers explain how it works and why you, as an architect, can be sure that products that carry its certification meet the highest standards and are safe to use.
Acoustics in Educational Facilities – A 'Building Quality Standards Handbook' Perspective
Thursday 12th October 12:00pm – 13:00pm
As educational authorities around the world have recognised, poor acoustics have significant negative impacts on the functioning of schools and educational facilities. Including effects on cognitive functioning, potential infringement of Discrimination, Disability & OHS Acts, and more, these effects make it clear that acoustics are as vital a design consideration as ventilation, lighting, or energy use.
Here in Australia, the Department of Education and Training has developed a set of guidelines that acknowledge and address this issue. Contained in its 'Building Quality Standards Handbook' – a publication that deals with all aspects of school design – these regulations cover all aspects of acoustic design, from reverberation control to sound Isolation of walls, and more.
Titled Acoustics in Educational Facilities – A 'Building Quality Standards Handbook' Perspective, this session examines the requirements of this guide and outlines the best ways to achieve favourable acoustic outcomes in educational projects.
Functional, Sustainable & Accessible – A Specifier's Guide to Recycled Polymer Surface Water Drain Solutions
Thursday 12th October 13:30pm – 14:30pm
Beyond more obvious comments around carbon abatement and so on, one message that emerged from the devastating floods of 2022 was that, in many cases, damage could have been avoided if the properties involved included appropriate drainage systems.

It has become clear that – in these times of climate change and variable rainfall patterns – specifiers need to fully aware of the various draining options, along with their benefits and limitations.

They need to be aware of the difference between Class B and Class D Grates and the types of applications for which each is suitable. They need to understand concepts like 'Load Rating' and 'Flow Rates', and how they relate to product choice. And, having decided upon an appropriate drainage system, they have to understand how to best integrate into their specific project.

In this session of CPD Live, our speakers address these issues and more. They outline the best ways to secure drainage solutions that are not just functional, but also sustainable and accessible.
Circularity in the Built Environment
Thursday 12th October 15:00pm – 16:00pm
Globally, it is estimated that construction is responsible for one third of the world's waste and up to 40% of total carbon dioxide emissions. If we want to reduce the quantity of waste and emissions generated during the construction process, we need to take a closer look at the life cycle of the products we build with.
It is becoming clearer that a transition to a circular economy is necessary to avert environmental disaster and mitigate the impact of climate change; and that the building and construction industry is crucial to this shift.
This session of CPD Live examines the circular economy model, its significance, and the tactics that designers and architects can implement to benefit businesses, people, and the environment. Our speakers highlight the key circular principles and how they apply to selecting building materials, and point the way to a more sustainable future.
At the end of this presentation, you should be able to:
Define the term 'Circularity' as it applies to the construction sector
Identify and explain the three key principles of circularity
Define the term 'Circularity Score' and be able to identify high performing products
Demonstrate an ability to apply knowledge regarding circularity to architectural projects