Bookshelves and bookcases are a common feature in pretty much every context, from private homes to industrial offices. This has led to huge developments in bookshelf trends and designs as stylists take on the challenge of fitting the perfect shelf to purpose. Of course, bookshelves are not only for storing books; they can be used to display practically anything, from plants to your travel souvenirs.
In the home, bookshelves in particular can be seen as an expression of yourself. They allow your guests a window into the most important things in your life, whether that be family photos or even just your most beloved, tatty novel.
Bookshelves are well suited to practically every room in the house. They add a sense of sophistication to the living room, dining room, study, bedroom or even the kitchen if you're feeling adventurous. Kitchens and bathrooms are not traditionally places where bookshelves might be installed, due to the risk of damage to the books, but for a careful household they might be just the thing.
Incorporating a small library or even just a bookcase into your home is a brilliant idea to personalize your décor while still keeping things sophisticated. Also, books are not just for show – reading for as little as 6 minutes a day has actually been proven to improve your sleep quality, heighten concentration and reduce stress levels.
A bookshelf or two in the coziest rooms in your house is guaranteed to bring you joy for years to come. Walls of bookshelves filled with well-loved books add thoughtfulness and peace to a room, and they also make a great conversation starter for when you have guests over.
Because of their huge popularity, bookshelf style ideas are innumerable. You may even wish to design your own, specific to your home and the things you want to display. This is a great way to add an even more personal touch to your home library.
Popular DIY projects for custom bookshelves ideas include built in bookcases, homemade Hampton style bookcases, and floating shelves. The type and style of bookcase that you design will have to depend on your DIY ability level, budget, and space; the more available space and larger budget, the more extravagant your bookcase can be.
Perhaps you would prefer the opposite – a designer bookcase, ready-made and with installation covered. Whatever the case, the bookshelf ideas below are sure to get you started on your bookshelf inspo journey.
Book Shelf Designs: 6 Home Library Ideas to Inspire your Bookshelf Décor
06. White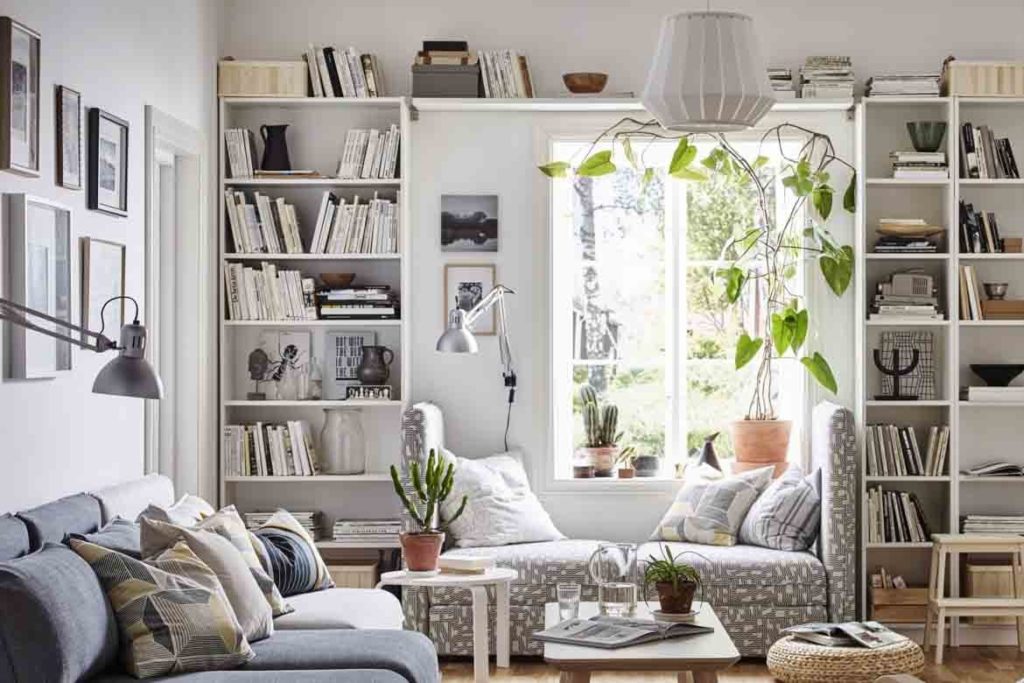 A classic choice for bookshelf design, white bookshelves are a crisp, clean choice that you will find in just about any furniture store. Their understated colouring places emphasis on the contents, allowing you freedom while styling the books or other display items.
White bookcases are very affordable, and you can purchase the one pictured above from Big W here for just $39.
05. Floating Shelves
Perfect for a study room or a bedroom, floating shelves are one of the best ways to display your books while also saving space. They can be installed towards the ceiling, keeping them out of the day-to-day action and limiting clutter.
Their frames are usually light and non-bulky, and you can even purchase modern invisible floating bookshelves like the ones pictured above here from CLU Living. Floating shelves are very popular and you can also find them in most major hardware stores such as Bunnings. They make an excellent DIY project due to their easy installation process.
04. Secret Door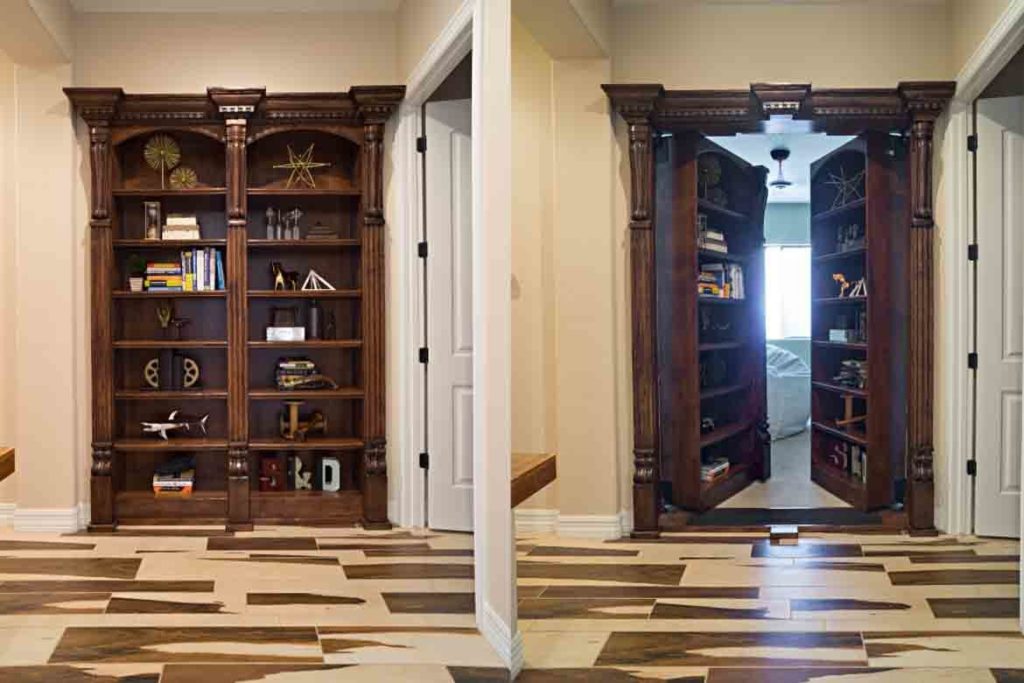 Okay, this one might seem a little more like something out of Scooby Do than what you might find in a real home. But give it a chance; this idea is fun and unique and can add a level of mystery to your home that will have all of your guests bewitched.
Furthermore, it's a great way to save space as you don't have to fit a bulky bookcase into the room. A door like this is, predictably, quite expensive, but you can find the secret door pictured above here from the Hidden Door Store in multiple finishes for $2,999.
03. Bedshelf
Incorporating bookshelves into your bed frame is an ingenious way to merge form with aesthetic. The feeling of sleeping atop a pile of your favourite books is incredibly comfortable. Bookshelf beds come in many different shapes and sizes, and you can even have them custom made. Common styles include a bookcase in the headboard, like the popular Temple and Webster model available here for $1,649.
02. Classic Wooden
Rustic yet timeless, the class of a simple wooden bookcase is undeniable. Particularly when paired with vintage or old books, a natural wood bookcase brings a sense of industrial chic reminiscent of simpler times. You can purchase the wooden bookcase pictured above here from Etsy for $810.
01. Hamptons Style
Hamptons style refers to the simple, rustic beach décor which originated in the Hamptons seaside communities. A Hamptons style bookcase has an elegance that cannot be matched. Typically they have drawers underneath the shelves and detailing along the top as well as the sides. Hamptons style furniture sticks to neutral colours, often whites, browns and navy blues.
Truly extravagant Hamptons style bookcases will have a ladder like this one, which transforms the feel of the unit from a bookshelf to a personal library. You can purchase the bookcase pictured above here from French Place for $3,520 or for something more understated try the single bookcase pictured earlier, available from Temple & Webster.