From an abundance of colour, to a focus on natural light, and reduced carbon emissions: we've rounded up 6 of the region's most award-worthy learning spaces. What draws them together? They each offer enhanced wellness benefits thanks to the development and reinvigoration of space.
Brighton Street Early Learning Centre
Danielle Brustman Studio with Perkins Architects | Australia
Drawing on early education philosophies, the Brighton Street Early Learning Centre combines purposeful colours and materials to guide moods, while using play-based learning to help children's development. The natural, durable materials of blonde timber and polished cement combine with colourful pastels and distinctive spaces to create a gentle yet fun learning and teaching environment. Remnants of the building's brutalist bones – like the exposed steel beams – remain as a nod to the building's past.
see more
Monash University Building 28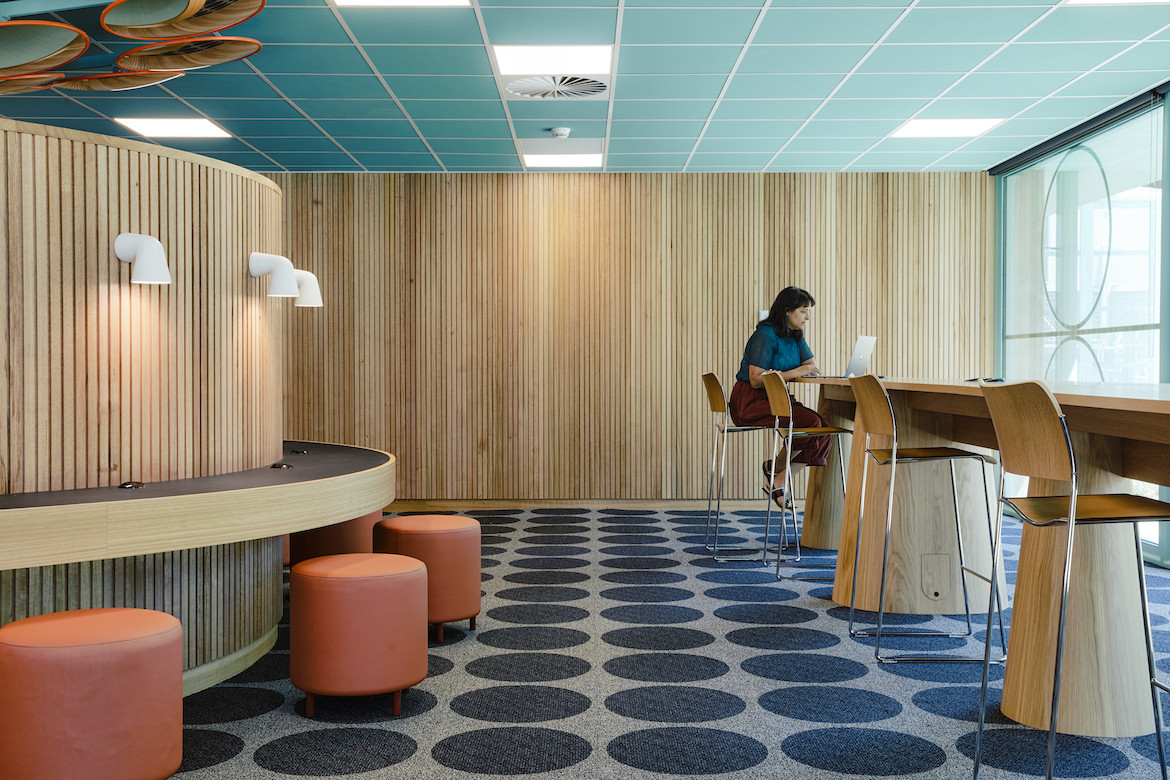 Kennedy Nolan | Australia
Formerly housed within a windowless 1960s building, Monash University's Building 28 provided the perfect opportunity for Kennedy Nolan to retain the original modernist structure and reinvigorate the site. The building houses the Department of Mathematics and Earth Atmospheres and Environments.
Responding to its earlier austere modernism, Kevin Nolan's design opens up the interiors to the external landscape using large walls of windows. Blue-green grid glazed walls around collaborative workspaces encourage interactive note-taking, while convex ceiling mirrors increase the sense of vertical room. By bringing light, colour and collaboration into what was once a cramped, dark interior, Monash University has has made the spaces infinitely more user-friendly.
see more
School of Design and Environment 1
Special Projects, NUS School of Design and Environment with CPG Consultants
| Singapore
With a central courtyard replaced by a jungle garden, a focus on high-comfort academic environments, and carbon output-reducing features, this Singaporean school maximises users' wellbeing, while minimising environmental impact. The structure was repurposed from the original 1970s building, rather than building a new, carbon-heavy entity; it features solar roofing, panels that drive light into the depths of the building, and screens that fold to filter solar heat, while providing natural ventilation.
see more
Docklands Primary School
COX Architecture | Australia
Built in the highly developed Docklands area, Cox Architecture has worked to overcome the area's widely criticised reputation by designing a school that ties together playful spaces with references to the area's history. The design puts emphasis on the children's wellbeing at the forefront of the design with integrated indoor and outdoor spaces across multiple levels, as well as rooftop gardens, edible gardens, elevated play terraces and sports courts for outdoor recreation. Evoking memories of the area's nautical history, Australian hardwood runs through the site, tying the built elements together.
see more
The Rajasthan School
Sanjay Puri Architects | India
A contemporary trapezoidal design is tied with traditional regional colours to create this compelling and uplifting school in Rajasthan, India. Apart from referencing colours used in the region, the use of bright red, blue and yellow was aimed at invigorating creativity in the students. Natural ventilation and angled sun-breaker walls keep the spaces cool during the heat of the day, while also providing energy efficiency that is enhanced by the water recycling system.
see more
La Trobe University Sports Park
Warren and Mahoney with MJMA Toronto | Australia
With large windows making elite sport visible, La Trobe University Sports Park's accessible nature encourages both recreational players and professional athletes alike, addressing health and wellbeing on a large scale. The building is also climate positive, benefiting the campus as a whole. Lining the roof is a vast number of solar panels. These generate more power than the park can use and feed energy to help power the rest of the campus.
see more