Vitra has been on a collaboration spree, working with leading architects and designers of the world on a series of experimental projects that cater to audiences interested in both social and design issues. The brand's latest initiative with world-renowned American architect, designer and artist, Virgil Abloh has resulted in a mind-boggling installation – TWENTYTHIRTYFIVE – that was unveiled on 12 June 2019 at the Fire Station on Vitra's campus.
TWENTYTHIRTYFIVE explores two essential concepts. It looks at how technology and the changes in our society could potentially impact our homes. It also addresses the extent to which our environment and surrounds influence our life's paths and choices. In the installation, Abloh brings these ideas to life through an interaction between a fictitious teenager and his home environment from years 2019 – 2035.
The first section of the installation, titled 'Past/Present' is an arbitrary selection of furniture and objects, hinting at a condensed collection of memories that could take root and influence the teenager's life in later points in time. The second section 'Tomorrow' looks at the year 2035, showcasing the home of the now adult protagonist. The products answer the challenges of the future while also creating a bridge with the past.
Three spin-off products are part of this futuristic living environment. They include:
Ceramic Block
In Virgil Abloh's TWENTYTHIRTYFIVE, a wall of bright orange bricks, titled Ceramic Blocks, take on the role of storage objects. In all, there are 999 limited edition ceramic blocks, each with a conspicuous numeral that renders it unique. Blocks are available for purchase during the exhibition. By removing a block, the installation is changed, in turn modifying Abloh's vision of 'Tomorrow'.
Petite Potence
The Potence wall lamp was initially created by Jean Prouvé in 1942 and subsequently produced in a range of sizes. In TWENTYTHIRTYFIVE, Abloh has integrated the smaller Petite Potence wall lamp into the installation and accentuated its industrial DNA with an orange lacquer finish. This lends the lamp a new look while a striking LED bulb enclosed within an oblong cage makes a lasting visual impact. 300 pieces of Abloh's version of the Petite Potence are available at the showcase.
Antony
In TWENTYTHIRTYFIVE Abloh pays tribute to Jean Prouvé's iconic 1950's armchair, Antony. His updated version of the armchair sports a plexiglass shell that reveals the supporting metal structure, made more visually compelling with a bright orange lacquer finish. This new version of Antony is only available in 100 limited edition pieces.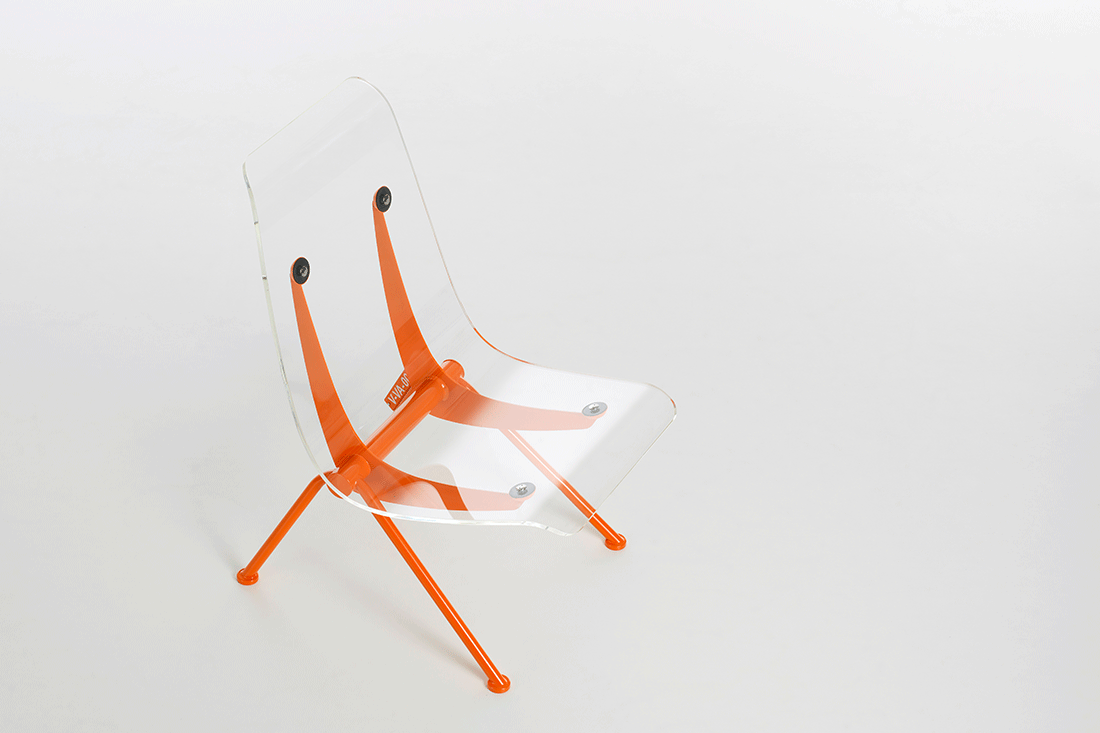 Catch TWENTYTHIRTYFIVE from 13 June – 31 July 2019 at the Fire Station on the Vitra Campus. Stay updated with the latest in the world of design by subscribing to our newsletter.
Photographs courtesy Vitra.