Citing four decades of experience and expertise to formulate designs for furnishings within high performance environments, Materialised have supplied high quality products to Australian designers since their inception.
Materialised's suite of commercial-grade 'whole room solutions' products has grown exponentially to move beyond the aged care industry. Spanning hotel, club, restaurant, commercial and healthcare interiors, the brand's portfolio encompasses high-performance fabric, wall covering, acoustics and art, with a major focus on custom design.
Materialised's products were recently utilised by EJE Architecture and EJE Interiors for the new build of Club Parramatta. The new interior is a reflection of the culture and surrounding backdrop of the club, with Materialised enlisted to supply high-end products for the project.
Club Parramatta occupies a portion of the site adjacent to the original club of 1958, situated on a key corner intersection of O'Connell and Macquarie Street. A locality rich with colonial, indigenous, political and culturally historical relevance – Convict dwellings, Governor Macquarie's Public Domain Vision, the Parramatta Zoological Gardens of the 1850's and a War Memorial.
The client's brief was to provide various product offerings within one large space, to act as a bridge between history, park, city and cultures, to acknowledge multi-cultural values of key user groups with the integration of Feng Shui principles, and to celebrate inclusivity and community.
The design response was informed by an understanding of, and respect for the significance of the Parramatta land and river with the creation of an internal 'landscape' set within a transparent envelope. Feng Shui imperatives and associated remedies were then rationalised against pragmatic, functional and architectural principles to strengthen and augment flow throughout. Careful consideration of internal space separation in an open plan design was resolved with visual, audio and flexible draping solutions.
A key philosophy was to create an unconventional club venue – to provide a feeling of non-containment, using internal placemaking to create a sense of entering an external parkland. Immediately upon arrival the occupier is given a direct physical and visual link to park and city landscapes. "EJE Interiors draws from a wide pool of suppliers and manufacturers to suit specific projects and practicalities," explains Jodie Duddington, Senior Interior Designer at EJE Architecture. "Materialised has been one of our key custom fabric and wall covering suppliers and have always offered high quality performance textiles, flexibility in customisation and fast turnaround. Club Parramatta's design brief required some innovative thinking and the team at Materialised, as always, were eager to step up to the challenge."
Material selections are pared back and often reduced to raw industrial finishes and surfaces to rationalise the volume of materials required in the project. EJE selected five custom and semi-custom Materialised fabrics.
Custom Acoustic Drapery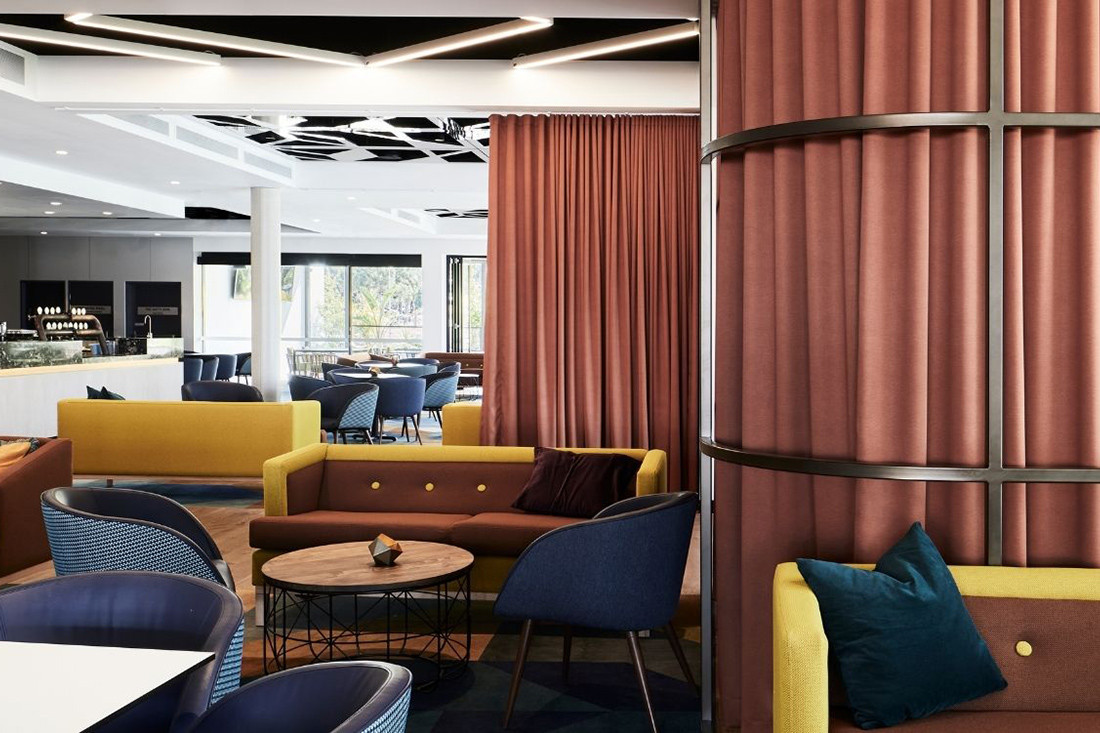 To deal with an open plan bar space with multi-use requirements, a drapery solution was decided upon to provide flexibility for the client and acoustic abatement for guests. Materialised's Midnight drapery was utilised due to being soft in its handle and weighted in its drape, with the colour customised to suit the design palette.
Custom Sheer Drapery
Sheer curtains in two different colourways feature throughout the space for visual and operational separation. They required a grid design to create a mesh effect, but this posed an interesting design challenge for the design team. What looks simple is not always the case, and so Materialised's design expertise is often drawn upon to create the perfect outcome for their clients.
On a sheer it is not possible to match a grid on the back and the front of the fabric accurately. "So the solution was to print a horizontal line on the front, and a vertical line on the back", says Materialised Leading Textile Designer, Brigitte Marlot.
Custom Upholstery
Two rescaled and custom-coloured Jimmy Pike Desert Bloom designs were selected for the banquette upholstery. Rigorously tested, the upholstery ticks the required boxes of flame retardancy and durability. "The custom colouring of the Jimmy Pike fabrics in the upholstery and the Ngalya Lighting installation from Arnhem Land in the foyer were key design elements in the Australian colour and texture palette," says Jodie. The custom colouring options offered by Materialised open up a range of infinite possibilities for designers.
Download Materialised's new hospitality brochure to see all the design opportunities for your next project here.
Materialised
Photography by Alex McIntyre