View the video now by filling the form below.
CPD Documents:
Download the Answer Sheet HERE
*Please remember you are required to attend the full hour of the presentation in order to receive your formal CPD Certificate.
*You do not need to submit your Questionnaire to the AIA or brand, please keep on file for your records.
*By registering to watch this you agree to share your information with Indesign Media and it's third-party partners.
Session Synopsis:
How to expand your design capabilities and deliver exceptional architectural features.
The presenter, will outline ways that collaboration with an industrial designer can deliver an architect's creative vision using the latest technologies, materials and manufacturing techniques. Pushing creative boundaries to deliver unique and site-specific results.
He will highlight a range of opportunities where architects have collaborated with industrial designers to deliver highly complex features such as the heliostat system for the international award-winning One Central Park, the intricate sun shading system at UTS Library, product design for NSW Architecture Medallion winner Phoenix Central Park and other unique design features including facades, skylights, retractable roofs, furniture, landscape structures and playgrounds.
This will be a demonstration of how collaboration with an industrial designer can realise an architect's designs beyond the limits of traditional construction methodology.
Key Learning Outcomes:
At the end of this presentation you should be able to
Identify where a traditional approach to design and construction might restrict your design creativity and limit project outcomes
Learn about the industrial design process and how collaboration with industrial designers can lead to improved design opportunities
Evaluate opportunities where working with an industrial design team can assist you to realise unique designs, maintain architectural intent and manage budgets
Gain in-depth insights into the digital design approach utilised by industrial designers can help manage manufacturing and procurement risk
Identify the opportunities where utilising advanced manufacturing materials and technologies may improve sustainability objectives and control cost
Evaluate how functional elements have helped transform ordinary spaces into multipurpose and useable places by combining aesthetics, functionality and use-ability
AACA Competency Standards related to this session:
Design: Project Briefing: 1.5
Design: Conceptual Design: 3.2, 3.7
Design: Schematic Design: 4.5, 4.6
Project Delivery: Procurement: 7.1
Project Delivery: Construction Stage: 8.1, 8.2
Presented by:
Tim Phillips, Managing Director, Tilt Industrial Design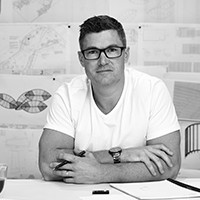 Tim Phillips is a highly regarded Industrial Designer specialising in design consulting for Architects, Creatives and the Construction Industry. He has extensive experience in architectural projects, with a passion for using the latest technologies, materials and manufacturing techniques to bring the creative ideas of his clients to life.
Tim manages a dedicated team of industrial designers and engineers, pushing the boundaries to achieve truly unique design solutions. Motivated by architectural challenges, the Tilt team enjoy the
opportunity to thoughtfully consider the design intent and then deliver it through a proven design process.
Tim is also an educator and academic, with an ongoing association as alumni of the University of Newcastle, the University of Technology and University of NSW.
Fill in the form below to access the video:
"Please scroll to the top to view the video."
Please note by accessing advertiser content your details may be passed onto the advertiser for fulfilment of 'the offer'. The subscriber also permits the advertiser to follow up the fulfilment of the offer by email, phone or letter.