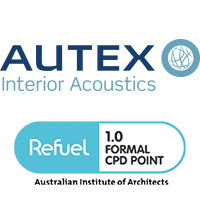 Thursday, 1 October
1.30pm – 2.30pm (AEST)
Session Synopsis:
The Autex Formal CPD Presentation – Is a module to ensure that key architectural skills are covered to provide a good understanding of the effects of sound in within the built environment. It directly relates to the areas of Design and Documentation within the National Competency Standards for Architecture.
The presentation focuses on providing a practical level of acoustic understanding and the fundamental acoustic challenges of interior space design and the impact hard reflective surfaces have on reverberation and background noise. It also defines how room geometry can affect overall acoustic performance and the deterioration of speech intelligibility.
The presentation also looks at how to accurately determine an effective and suitable acoustic treatment.
Key Learning Outcomes:
At the end of this presentation you should be able to:
Identify how we perceive sound and how this influences the various rating options we use to define acoustic performance
Evaluate the Impacts on the performance that different finish will have on the acoustic performance of internal spaces interrupt the data sets in relation to absorption material and how its performance is Measured
Identify the various common types of Absorption in a space and how they influence the acoustics of a space
Identify and apply the relevant performance requirements and standards for reverberation and noise Levels
AACA Competency Standards related to this session:
Design: Project Briefing 1.4, 1.7
Design: Conceptual Design 3.1, 3.7
Presented by:
Rob Jones, Technical Manager, Autex Australia
Robert Jones has been part of the Autex family for almost 20 years, starting at our head office in New Zealand before moving to Australia in 2011. He is Autex Australia's Technical and Development Manager and in-house expert in the field of acoustics. As an avid drummer, sound technician, and wicket keeper—his passion for acoustics stretching far beyond the 9-5—Robs been no stranger to generating noise be it behind the stumps or on stage. With key roles in helping create and develop products that are not only aesthetically appealing and made from recycled materials, but also have high performing acoustic properties, is incredibly rewarding. With his experience and passion for acoustics, Rob is able to help our clients find the perfect solution to solve their acoustic problems, ensuring each project is perfectly tailored to meet its acoustic requirements.
CPD Documents: available to download soon.