CPD-Live is back on October 1 and October 2, bringing back the most dynamic digital platform designed to keep every architect updated with the latest CPD content.
Hosted by IndesignMedia and presented by leading brands, CPD-Live will offer free CPD content exploring leading topics and areas to inform specification. We've made it easier than ever to earn CPD points in a simple digital format, allowing you to ensure your continued learning is covered, anywhere you have an internet connection.
Running over two days CPD-Live will present key learnings through an innovative, real-time digital event that will include an interactive Q&A that promises to offer pertinent and detailed information. This is the time to increase your knowledge and add to your CPD points. Select from 9 informed topics or choose to attend the whole line up to earn up to 9 formal AIA Refuel CPD points.
Leading brands such as Alspec, Elevar & Ergotron, TILT, Autex, The Footprint Company, CDK & Neolith, James Hardie and Caroma will be presenting in depth analysis pertaining to their products, that includes background, codes, sustainability initiatives, material and application to help you make informed choices. From the comfort of your home or office these CPD accredited sessions meet the National Standard of Competency for Architects and also offer the opportunity to earn multiple CPD points across both days.
All sessions are FREE to attend but best of all CPD-Live will inform and provide next level information invaluable in your day-to-day work. Despite the digital format, CPD-Live will offer opportunities for you and other attendees to ask questions and engage to ensure you receive the maximum benefits and knowledge though the experience.
Indesign media is committed to offering specifiers meaningful CPD content and have so for 20 years. Given our changing environment, we believe it is more important than ever for our industry to share knowledge and ideas and are looking forward to CPD-Live to be an ongoing staple in the way we learn in future.
–
See below for full program details and register for free.
THURSDAY, 1 OCTOBER 2020
Understanding Cladding and the Requirements of the NCC – Pathways to Compliance
1 October, 9.00am – 10.00am AEST
Presented by Ross Baynham, National Specification Manager at Alspec
Session Synopsis:
This CPD is designed to provide a clear understanding of Cladding materials, the requirements of the NCC and the pathways to compliance for claddings materials. There are a number of considerations that need to be addressed before choosing the right cladding materials for a project. In particular, Fire Performance and Compliance are topics that need to be fully understood to ensure safe building systems are used.
Key Learning Outcomes:
At the end of this presentation you should be able to:
Identify and apply the Compliance Pathways within the NCC 2019
Evaluate the various different Façade systems and Cladding Systems
On each project, define and fulfil Fire Compliance for External Walls/Facades
Identify and evaluate the Testing Procedures for compliance
Dying to Sit Down
1 October, 10.30am – 11.30am AEST
Presented by Alan Boyd, Regional Account Manager APAC, Ergotron
Session Synopsis:
We were seeing an increase in flexible working environments with activity-based working, hot desking, co-working spaces. Now during the current co-vid pandemic, most of us are working from home and will be for at least part of our working week for the foreseeable future. In this presentation Alan Boyd will present how we became so sedentary and recent research on the health issues being caused by sedentary lifestyles. He will also give some practical tips on how to reduce these potential health issues by designing movement into the workplace.
Key Learning Outcomes:
At the end of this presentation attendees should be able to:
Apply their imagination, aesthetic judgement and critically evaluate options to design a safer and more productive working environment for their clients and themselves.
Identify and define common pitfalls in specification writing of workplace furniture
Evaluate and improve the detailed design of materials and components through on a better understanding of the anthropometrics.
Rethinking Design Innovation
1 October, 12.00pm – 1.00pm AEST
Presented by Tim Phillips, Managing Director, Tilt Industrial Design
Session Synopsis:
How to expand your design capabilities and deliver exceptional architectural features. The presenter, will outline ways that collaboration with an industrial designer can deliver an architect's creative vision using the latest technologies, materials and manufacturing techniques. Pushing creative boundaries to deliver unique and site-specific results. He will highlight a range of opportunities where architects have collaborated with industrial designers to deliver highly complex features such as the heliostat system for the international award-winning One Central Park, the intricate sun shading system at UTS Library, product design for NSW Architecture Medallion winner Phoenix Central Park and other unique design features including facades, skylights, retractable roofs, furniture, landscape structures and playgrounds. This will be a demonstration of how collaboration with an industrial designer can realise an architect's designs beyond the limits of traditional construction methodology.
Key Learning Outcomes:
At the end of this presentation you should be able to:
Identify where a traditional approach to design and construction might restrict your design creativity and limit project outcomes.
Learn about the industrial design process and how collaboration with industrial designers can lead to improved design opportunities.
Evaluate opportunities where working with an industrial design team can assist you to realise unique designs, maintain architectural intent and manage budgets.
Gain in-depth insights into the digital design approach utilised by industrial designers can help manage manufacturing and procurement risk.
Identify the opportunities where utilising advanced manufacturing materials and technologies may improve sustainability objectives and control cost.
Evaluate how functional elements have helped transform ordinary spaces into multipurpose and useable places by combining aesthetics, functionality and use-ability
Interior Space Acoustics
1 October, 1.30pm – 2.30pm AEST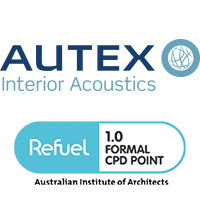 Presented by Rob Jones, Technical Manager, Autex Australia
Session Synopsis:
The Autex Formal CPD Presentation – Is a module to ensure that key architectural skills are covered to provide a good understanding of the effects of sound in within the built environment. It directly relates to the areas of Design and Documentation within the National Competency Standards for Architecture. The presentation focuses on providing a practical level of acoustic understanding and the fundamental acoustic challenges of interior space design and the impact hard reflective surfaces have on reverberation and background noise. It also defines how room geometry can affect overall acoustic performance and the deterioration of speech intelligibility. The presentation also looks at how to accurately determine an effective and suitable acoustic treatment.
Key Learning Outcomes:
At the end of this presentation you should be able to:
Identify how we perceive sound and how this influences the various rating options we use to define acoustic performance
Evaluate the Impacts on the performance that different finish will have on the acoustic performance of internal spaces interrupt the data sets in relation to absorption material and how its performance is Measured
Identify the various common types of Absorption in a space and how they influence the acoustics of a space
Identify and apply the relevant performance requirements and standards for reverberation and noise Levels
Low Carbon Design and Materials
1 October, 3.00pm – 4.00pm AEST
Presented by Dr Caroline Noller, Founder & Chief Executive, The Footprint Company
Session Synopsis:
What is embodied carbon and how can we achieve the deep cuts of 40-50% proposed? This session will provide participants an understanding of embodied carbon and how it relates to individual materials, and more importantly, whole building design. This session will arm participants with the knowledge of how to apply key embodied carbon reduction design strategies and design principles. Provide basic skills to make more proactive design choices to immediately, thus improving the materials carbon footprint. Finally, learn how to save time by efficiently locating the appropriate information for project applications.
Key Learning Outcomes:
At the end of this presentation you should be able to:
Evaluate design choices to achieve lower embodied carbon outcomes
Gain knowledge to apply the best carbon reduction strategy for a given project scenario (scale and stage)
Increase research skills to efficiently locate suitable carbon information resources for project applications.
FRIDAY, 2 OCTOBER 2020
Safe and Enduring Facades that meet Design Ambition
2 October, 9.00am – 10.00am AEST
Presented by Timothy Elliot Product Manager – Commercial, James Hardie
Session Synopsis:
This CPD aims to educate participants on how tragic building and cladding failures globally have bought on NCC code changes in order to ensure the design and build of safe and enduring facades. We will take you through how to understand these updates and what their impact has been on the building code in the context of façade cladding selection and façade design.
Key Learning Outcomes:
After completing this course, attendees will be able to:
• Define the context of the NCC Updates in order to fulfil the expectations of the Building Code
• Evaluate the compliance layers in the NCC that affect cladding selection
• Identify the required level of fire resistance for your building's façade
• Identify the compliance pathways and what methods and tests are needed to demonstrate compliance
• Identify any state by state differences in the NCC
• Define and fulfil why Fibre Cement cladding is considered fire safe (exempt from additional testing and verification) in the building code
How to specify sustainable sintered surfaces
2 October, 10.30am – 11.30am AEST
Presented by Nathan Karpenko, State General Manager – Business Development, Stone & Neolith
Session Synopsis:
The aim of this presentation is to give architects and designers an understanding of sintered stone, its application in design and how to specify sustainable sintered stone. Sintered stone sustainable development process will be explained and its unique characteristics and benefits. Participants will be taught how to critically evaluate sintered stone for different design options and project types, from kitchens to facades. The session will promote a more environmentally aware and sustainable industry by going through key questions to ask in the specification of sustainable sintered stone.
Key Learning Outcomes:
At the end of this presentation you should be able to:
Identify and define what sintered stone is and how it can be used in projects.
Have the ability to Identify sintered stone styles for creative imagination and producing coherent design.
Critically evaluate sintered stone for formulating design options in different applications and sustainability requirements.
Evaluate sintered stone for different project requirements from internal to facades.
Connecting People: Creative Commercial Stair Design
2 October, 12.00pm – 1.00pm AEST
Presented by Gavin Williams, Project Design Consultant, Active Metal
Session Synopsis:
The aim of this presentation is to give architects and designers an understanding of the role of creative stair design in modern commercial buildings and fit-outs. Are stairs simply a historical construction designed to vertically move human beings from level to level? Is there a social benefit to stair design? Is there a health benefit, and what does the WELL standard require?
With many new buildings under construction, and fitouts being completed in older buildings, how can you ensure that your stair is compliant with the regulations? Do we even know what regulations govern what aspect of stair design? We will answer these questions and develop some best practice applications of the regulations in the real world. We touch on the role of a specialist stair design consultant especially with spiral stair designs. Outlining the need to understand how all aspects of stairway design can work together for a superior user experience and outcome, we'll also explore recent case studies.
Wrapping up with a look at the future of stairs in a post-COVID world, this presentation will provide the listener with enough of a degree of knowledge and confidence to approach the creative design of stairs with an improved level of understanding.
Key Learning Outcomes:
At the end of this presentation you should be able to:
Identify what are the key regulations that govern stair design and why they matter
Identify and define what makes a creative stair design
Evaluate and apply knowledge of key regulation requirements and their best practise application to future projects
Design for Access and Mobility with Considerations for Aged Care
2 October, 1.30pm – 2.30pm AEST
Presented by Soraya Jeanes, Business Development Manager | Aged Care, GWA Group
Session Synopsis:
With so many elements to consider when designing bathrooms to meet AS1428.1 – 2009, it is important that we specify the right fixtures and finishes so that users of the bathroom can operate independently and at ease. Products for accessible applications in the bathroom need to deliver optimum access and mobility to comply with Australian standards. Our formal CPD presentation is intended to provide an in depth look at the requirements for AS1428.1 – 2009 Design for Access & Mobility in the commercial bathroom space, classifying the differences and requirements for Accessible, Sole Occupancy and Ambulant applications. During this seminar we will discuss what products comply, (and why) as well as provide you with the knowledge to make informed design choices for your projects and clients, with the end user in mind. We will also identify bathroom solutions and design considerations to meet the needs of our ageing population to assist and support movement within the bathroom, and recognise where the AS1428.1 accessible standards can play a role in guiding product selection and set out.
Key Learning Outcomes:
At the end of this presentation you should be able to:
Recognise the different product & set-out requirements within AS1428.1-2009 within the commercial bathroom space
Interpret the definition of Sole Occupancy applications & where to apply
Identify the compliance requirement of Ambulant Cubicles.
Recognise the appropriate features to take into consideration for use in Aged Care.